Construction Management services are provided by PENTA Industrial Corporation. PENTA Industrial Corporation is a general contractor who works as a team with PENTA Engineering Company to offer global, Design/Build project solutions for brownfield plant upgrades and new greenfield facilities in the mining, industrial minerals, lime, cement, grain, coal, and fertilizer industries. PENTA is committed to assisting you in achieving your primary success factors and objectives by managing the overall execution of your project.
PENTA works closely with business owners, investors, and financial institutions to ensure the success of each project. By bringing first-hand knowledge of the engineering design to an EPC/EPCM project, we are able to more efficiently manage the work of the site contractors as the construction project takes shape. This is one example of how we anticipate and resolve issues in a timely and cost effective manner to reduce rework. Facility managers often find it is easy to work with a single-source provider since it allows them to focus their attention on their existing facilities.
When acting as an EPC/EPCM construction management general contractor, our tasks typically include detailed planning and management of the overall project, front-end and detailed engineering (provided by PENTA Engineering Company), the procurement of equipment and materials, the selection and management of construction contractors, overall management of the construction site, the planning and management of the facility commissioning, and the handover.
DECODING EPC VS. EPCM:
If you have a plant upgrade or modification on the horizon, and you are asking yourself whether Design/Build (EPC) or EPCM is the best solution for you, then please contact us for more information. PENTA would be happy to decode the advantages and differences in more detail. You can also go to http://www.penta.net/epc-and-epcm-services/ for more information.
PENTA'S 5 TENETS FOR SUCCESSFUL PROJECT OUTCOMES:
Scope: PENTA will extract and develop from you a complete and thorough DOR (Division of Responsibility) for all project specifications so both parties are 100% clear on what needs to be accomplished.
Capital and Operating Budgets: PENTA develops the project investment requirements (CAPEX) and the effects on operating cost (OPEX) for the facility being constructed.
Schedule: PENTA will develop a complete master schedule for your project with critical paths highlighted. Maximizing ROI is only possible when projects are concluded on-time and on-budget.
Project Execution Plan (PEP): Our project managers have the experience necessary to conceptualize an accurate PEP and then deliver on those plans.
Commissioning Plan: On mechanical completion, PENTA's comprehensive commissioning plan lays out the specifics of how the project will be put into operation in coordination with the client. In addition, PENTA assists the client so they can accurately plan a ramp up for production to full capacity when the project is completed.
PENTA possesses all the resources to build a cooperative, well-functioning team for the construction management of your project. The EPC/EPCM staff typically consists of a Project Manager, an Engineering Manager, a Procurement Specialist, and a Construction Manager. The team will include employees who specialize in health and safety, environmental compliance, security, cost control and schedule, logistics, purchasing and receiving, contracts management, accounting, quality assurance and construction trade management. A multi-disciplinary engineering design team and engineering field support are also provided by PENTA Engineering Company.
To learn more about PENTA's Engineering Design Services, please go to http://www.penta.net/engineering-design/.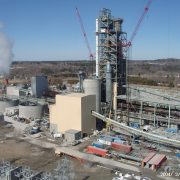 "PENTA's approach to cost-effective engineering, procurement, and construction management solutions, their extensive knowledge from an operational standpoint, and their long-standing track record for providing outstanding services are some of the reasons Dragon decided to partner with PENTA when we upgraded our facility. I feel confident we will use PENTA as a resource for future projects."