BECAUSE SUCCESSFUL PROJECTS START WITH SUPERIOR ENGINEERING DESIGN
PENTA has been supplying smart and practical plant engineering design for upgrades, modifications, and new greenfield facilities for the last 30 years. It's been our experience that every successful project's foundation began with accurate and customized engineering designs. We work closely with clients as consultants to fully understand not only the project requirements, but also business and operational goals. Once we have a clear understanding of your metrics for success, then we deploy our in-house, multi-disciplinary engineering team to design smart solutions to achieve successful project outcomes.
BECAUSE LESS REWORK IS OFTEN THE RESULT OF ACCURATE ENGINEERING DESIGN
Rework is one of the reasons projects are not completed on-schedule and run over-budget. If a project is not designed correctly, then it is likely issues will be encountered during construction. PENTA's employees possess many years of experience working in the field as Operations Managers, Plant Engineers, and Project Managers in addition to their knowledge of various engineering disciplines. This unique combination of engineering expertise, field experience, and construction experience allows PENTA to design plants that make sense. We know what works from practical experience. For example, we design plants with the proper space necessary to easily access equipment for repairs. Sounds pretty simple, but it's something we find a lot of companies overlook. This kind of attention to detail is what allows PENTA to complete projects with less rework.
BECAUSE PROPER EQUIPMENT SELECTION IS ONE KEY TO PROJECT SUCCESS   
With PENTA, a customer is not restricted to selecting all their equipment from a single OEM provider. PENTA tailors each project to suit the client's needs and requirements. We often customize projects by mixing and matching equipment from different manufacturers so we can deliver the most eco-friendly, cost-effective, and operationally-efficient project outcomes. As part of the procurement process, we ensure equipment suppliers provide guarantees and warranties to cover the performance of each piece of equipment.
BECAUSE INVESTING IN HIGH-QUALITY ENGINEERING REDUCES RISK AND IMPROVES ROI
Many enterprises invest the least amount of time possible on the front end and detailed engineering designs. This often results in your plant spending more on construction. Why do companies over-engineer projects? They simply don't want to invest the time necessary to make all the appropriate engineering calculations.
Our focus is on reducing your risk while providing cost-effective solutions. Our secret to success lies in our unparalleled engineering expertise. Over-engineering is a waste of precious resources. PENTA engineers plants the right way to positively impact your ROI for each project.
THE ADVANTAGE TO PENTA'S PROCESS ENGINEERING EXPERTISE:
We employ highly experienced process engineers. Their services include:
Impact of chemistry on raw mix design
Review of available additives and their chemistry
Assessment of negative impact from contaminants in the raw materials on process, product quality, environmental impact, and permits
Identification of additional corrective materials if required
Review of fuel analysis and the impact on the product
Economics of raw material input costs
Recommendation of optimum raw mix design for the longest mineral resource life
BECAUSE RELATIONSHIPS AND INTEGRITY MATTER:
Have you ever had an engineering company suggest project changes during the design process that resulted in your company saving millions of dollars in construction costs without compromising quality? PENTA's talented group of Senior Engineers, Construction Managers, and Project Managers possess the knowledge required to make these kinds of suggestions. More importantly, they possess the integrity to put them into motion. PENTA's Executive Team encourages all employees to be proactive and exhibit the highest level of integrity during all phases of each project. Our ongoing relationship with clients is our #1 priority.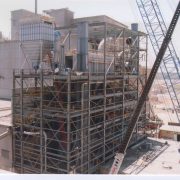 "Congratulations on PENTA's 30 year anniversary. Monarch has a long-standing relationship with PENTA Engineering since 1988. PENTA has provided effective engineered solutions on numerous projects for Monarch Cement from that first project in 1988 to our latest upgrade to our Limestone Unloading System in 2016. We continue to use PENTA Engineering because of the service and dedication to providing the best and most economical solutions for The Monarch Cement Company."